Why Sales and Marketing Should NOT Bridge the Gap!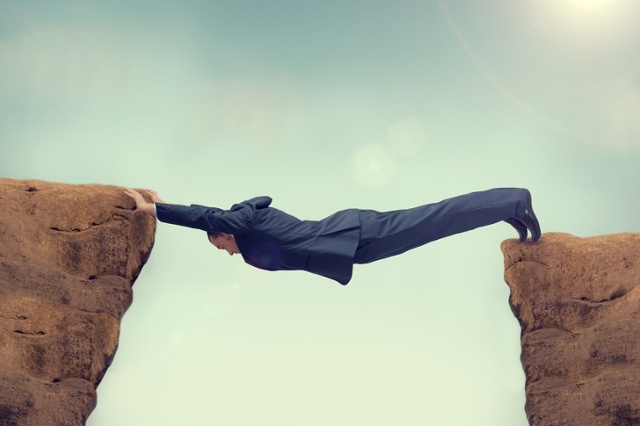 There is a reason why we have been hearing so much about "bridging the gap" between marketing and sales over the past three decades. It's because it is so hard to do! Conference presentations, webinars, books, and blogs have been dedicated to help us achieve something that has proven nearly impossible.
But we want to prescribe something new and radical: Don't bridge the gap! That's right, stop trying to do something that is not only inherently difficult but is also rarely worth the effort. Let marketing do what they do best and let sales focus on sales. The secret to this longtime business conundrum is to create a middleware team to work with marketing and sales and to bring their efforts together. This post will describe the benefits of this new approach and help you get started.
Middleware: The Non Glamorous Work
First, what exactly is middleware? The idea behind middleware is that a company would build a team or would use a telequalifying company that works with both marketing and external sales to qualify and develop lead activity. The middleware team adds a human touch to automated practices and helps deliver better, more qualified leads to sales. For example, this could mean simply setting up an appointment to talk with an expert or collecting some quick data to help determine the next step before handing off to sales.
Before we talk more about middleware, though, let's do a quick summary review about where marketing and sales should focus their attention. Keeping these two core missions in context will help you better understand the special role of middleware.
The proper focus of marketing:
Branding
Demand creation
Inbound marketing/content creation
Digital and social media
The proper focus of sales:
Conversions
Proposal development
RFP management
Negotiation
Adding a New Dimension
With those key functions in mind, you should think of middleware as the "middleman" between those two departments. Your middleware team will allow marketing and sales to excel at their tasks while serving as a communications bridge, ensuring that nothing falls through the cracks. You know, the things that marketing and sales like to do, want to do, prefer to do, and expect to do.
The key Areas of Focus for the Middleware Team Include:
Visibility
This involves reaching out to prospects and highlighting your firm's products, services, and solutions. This helps ensure customers are aware of your firm's potential.  In addition to the visibility the marketplace gets into your organization and solutions, The middleware team engages and collects critical business intelligence directly from your desired decision makers.  This visibility into potential new customers can provide product development, marketing and sales vital information that can be leveraged throughout the entire customer's buying journey.  As an organization you can gain additional metrics and reporting to better understand what is happening with the sales process.  This has been historically a difficult part of the pipeline to understand what truly is happening.
Qualification
Your sales team needs to spend its time targeting prospects that have the best chance of becoming customers, and your middleware team can help by qualifying leads before they get passed to sales. This way sales does not get non-qualified leads and doesn't view them as useless leads. You have the ability to turn what is typically a major frustration with sales into a positive credible process adopted by both marketing and sales  For those that are not ready for sales the Middleware will also work with marketing to determine how much nurturing a lead might need before handing off to sales.  This also applies to new decision makers uncovered and may be incorporated into marketing's future campaigns.
Education
Prospects need to understand how your firm's products and services can provide solutions for their business needs. This education task is perfectly suited for a middleware team. Since most B2B purchases leverage multiple decision makers across a variety of functional areas, the middleware team can engage and educate a variety of people based on their functional persona's and their individual interests and goals.
Nurturing
This is the act of moving a prospect through the sales funnel. For example, a potential prospect might fill out a form to subscribe to your blog, but they might not be ready to talk to a salesperson just yet. However, once you capture their information you can pay attention to their activity on your site. Perhaps you will find that they have read numerous blogs, downloaded eBooks or whitepapers, visited other pages dealing with solutions and pricing, or filled out a contact form.
All this activity might mean that they are willing to talk to sales, and you don't want to miss a chance to make that connection. This is not about marketing automation.  This is about 1:1 nurturing based on actual engagement and follow up.  When speaking with decision makers the middleware team can identify where the decision maker is within the buying process and can easily provide information and content based on their actual discussions, this is taking personalization from an automated process to a human driven process.
Transfer
This is where the human element is so critical to the sales process. Human engagement enables better qualification of the lead, education on the prospect and ultimately better engagement with the prospect. The middleware team establishes credibility for the salesperson before they ever engage with the prospect, and sets clear expectation on the future of the sales process.
While this transfer is happening, the middleware team is also communicating vital information to the salesperson, including buying habits, personality, etc. This information wouldn't be readily available to the salesperson via an automated marketing system. Readying the salesperson with better information and insights enables the salesperson to more effectively provide a practical and appropriate solution to the prospect.
If you want marketing and sales to succeed, then let them do what they are good at doing, and what they are compensated to do. Adding a middleware team helps your marketing and sales team excel by providing unique visibility into pipeline activity and capturing prospects that are often lost with a traditional marketing/sales structure. Middleware might not be "glamourous," but it's heavy lifting which needs its own dedicated staff and structure.
Don't Delay: SLAs Across All Three Teams
Setting goals is important, and that's where an SLA, or service level agreement, comes into play. An SLA is a contract between all parties — marketing, sales and middleware — that outlines the metrics and deliverables expected from everyone.
Be specific when you draft an SLA. Set clear, definable metrics for all teams, and ensure all three parties sign off on the agreement. This inclusion is crucial — everyone needs to agree to the terms of the SLA. And remember, clear metrics and definitions will allow everyone in your organization to speak the same language.
By creating a separate team to "bridge the gap" and setting clear expectations with an SLA, you allow your sales and marketing teams to do what they do best, and create a stronger opportunity for success.
Communication is key to effective decision making, and TelAffects can help ensure that everyone on your team is on board. Contact us today for more information!