10 Most Common Mistakes When Launching An Inside Sales Team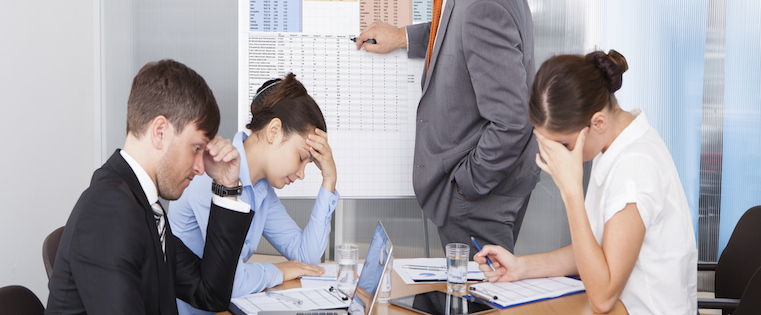 More and more B2B-focused organizations are establishing inside sales teams to support their sales and marketing efforts. Some are having good success. Others have good intentions but lack a well thought-out plan. In their rush to tack-on to their existing environment, they make some common mistakes.
We've known some businesses that think, "it can't be too hard." They'll just add several people to handle inbound responses to digital marketing offers. Have them ask a few follow-up questions before flipping hot leads over to the field sales team for conversion. Maybe handle some cold-calling too. Give them a script with a random offer, provide a little training and then boom, appointments for the outside sales team will practically generate themselves.
Unfortunately, business who don't have the time or expertise to launch and manage an inside sales team discover the work isn't easy and struggle to achieve the expected benefits. Worse, instead of helping and supporting the end-to-end sales process, they frustrate the field sales team and drain their productivity from driving revenue. This is often caused by making one or more of these common mistakes.
Viewing inside sales as a training ground for field sales vs. its own profession. Though it's often perceived this way, inside sales is not a junior or "mini me" field sales function. The unique role of an inside salesperson is to engage executive decision-makers in an initial telephone dialog that generates and qualifies leads. This is quite different from the role of a field salesperson who manages a long sales process, nurtures leads and closes deals. Both roles are important, but they require distinctly different skill sets. Generally, top field salespeople who excel at working a lead are not particularly good at prospecting. Nor does the experience working as an inside salesperson equip someone for success in handling other challenges that accompany managing a pipeline and closing deals in the field.
Looking for sales experience in the recruiting process. It's a mistake to assume that someone with sales experience knows how to prospect effectively. Since many organizations don't offer training to develop prospecting skills, it can be worse to hire a candidate who brings bad sales habits from their previous employers. Ideal inside sales candidates like to engage and connect with people; know how to ask effective questions and listen attentively. They are curious, enjoy learning and won't take immediate rejection personally. Better to hire someone who possesses these transferrable skills and has other types of relevant work experience.
Limiting training to a scaled back version of field sales training. Many organizations provide little or no training for their inside sales teams. If anything, there's usually a heavy emphasis on product/solution training and little focus on the skill sets needed for prospecting (i.e.: getting past the gatekeeper; taking a consultative approach to guiding a conversation; learning about the decision maker and their business; uncovering needs and opportunities; aligning value to the prospect's stated problems and pain points, etc.)
Relying on head of Sales or Marketing to manage and coach the team. Achieving results and sustaining consistent performance requires daily oversight and coaching. Even if you hired all rock star reps, they won't succeed without leadership and accountability. Vice Presidents of Sales or Marketing usually don't have the capacity to adequately monitor, manage and coach an inside sales team. The inside sales team needs a manager who devotes time to developing sales processes and campaigns; goal setting; KPI reporting; data analytics to drive results; tweaking offers and messages; adjusting calling strategies; call monitoring and quality reviews; feedback sessions; role playing; team brainstorming; and performance reviews.
Neglecting to track performance KPIs. Tracking performance metrics like number of leads generated or appointments set is important, but it doesn't give the entire picture of inside sales effectiveness. It's also important to track key indicators throughout the stages of the inside sales process, such as number of attempts; completed calls; decision-maker dialogs; aging/cycle time; "no interests". These metrics provide insight into why an inside rep might struggle to meet their goals. They also equip managers to target opportunities and offers that will improve results.
Building performance/business impact models on flawed data. Goal setting is important. Goal setting based on inaccurate and flawed expectations is foolish. In absence of a CRM that tracks detailed prospecting metrics, factual benchmarks don't exist. So instead, some organizations try to extrapolate long-term inside sales performance targets from unreliable and skewed sources. Sometimes that's anecdotal guestimates, historical results that are no longer relevant or results of last month's 2-hour power blitz. This is frustrating and distressing for the sales team. Moreover, the inability to forecast accurately or achieve predictable results is a risk for the business.
Lacking a structured data management and calling strategy. Inside sales teams make an important decision every day: which prospects should be called and why. This strategy has a huge impact on results, speed to market and market coverage. Surprisingly, this decision is often left up to the individual inside sales reps. They are given the freedom to skip around the database and "cherry pick" who they want to call. Usually this means that a third of the prospects gets called multiple times; a third get called just once; and another third doesn't get called at all.
Declining to set-up a CRM to track prospecting progress. On one hand, it makes sense that the inside sales team should work in the same CRM as the field sales reps. And there may be costs for customization. However, many CRM applications aren't designed to capture the workflows and performance metrics that are necessary for an inside sales team to succeed. This limits the accuracy of the sales pipeline and visibility into it. It's difficult for the inside reps to do their job well and leaves too much room for human error. It also limits how much an inside sales manager knows about what's happening throughout the prospecting process and hinders their ability to effectively drive performance improvements.
Aligning inside sales reps with field sales reps. As alluded to earlier, tightly focused goals and objectives are critical to the success of an inside sales team. Many organizations will team-up an inside rep with a rep in the field for mentoring and lead hand-offs. Unfortunately, this inadvertently causes an inside rep to drift from achieving the strategic goals of the organization. The field rep will often start to dictate different tasks and direction to the inside rep. Before long, you have a team of inside sales reps who follow processes subjectively, deliver inconsistent quality to your prospects, achieve varying results and capture inaccurate data. This severely impacts the credibility of your inside sales pipeline in terms of status and revenue value.
Allowing job creep. Organizations initially plan for inside sales resources to focus exclusively on sales and marketing objectives like generating leads, qualifying leads and scheduling appointments for the field. Overtime, however, other tasks get assigned to them. These are usually things that no one else in the organization has the time or desire to complete. Instead of watering down the focus and contribution of the inside sales team, organizations should hire a clerical person to perform these various administrative tasks.
If you're managing an inside sales team today, do any of these struggles sound familiar? Consider stepping back and reviewing your current operation. It's never too late to make improvements. Or if you're planning to launch an inside team, do yourself a favor and avoid these mistakes. You'll thank us later. Or give us a call now. We can help.